Good Morning, Sunshine!
I am referring to you, dear blog friend, since it is still dark here on the prairie and I don't know what the weather forecast is for today.
We have been getting some much needed rain and we are so thankful that God is restoring some of the water we missed out on during last year's drought.
My brain is full today.
Remember our flooded basement?
We are knee deep in decisions for restoration. The demolition is about finished and reconstruction will probably begin next week after things dry out just a few more days.
Of course, I want a new and improved look down there, so I am thinking about some frivolous things.
Like sofas and sectionals.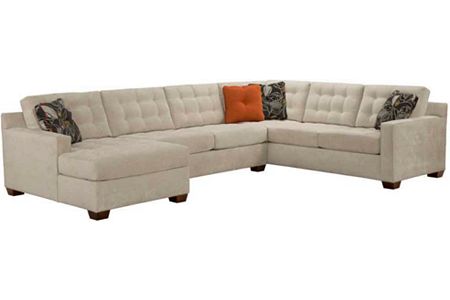 I like the look of this one from Broyhill, but it HAS to be comfy. Do you know if it is?
And color schemes.
Sherwin Williams Seasalt
Creamy -I've used this one and it looks nothing like it looks on my computer monitor.
And fabric for pillows.
This is coral.
But I am also thinking about some hard things.
Like idols.
I just started Kelly Minter's study, NO Other Gods, and this definition from Richard Keyes is really making me squirm a little…
An idol is something within creation that is inflated to function as a substitute for God……Idolatry may not involve explicit denials of God's existence or character. It may well come in the form of an over-attachment to something that is, in itself, perfectly good…An idol can be a physical object, a property, a person, an activity, a role, an institution, a hope , an image, an idea, a pleasure, a hero-anything that can substitute for God.
Hmmmm. What do you think, girls?
Darn. I have some more soul-searching to do.
While I am busy doing that, do you have some advice about comfy sofas and color schemes?
And how you keep God first?